goddammit, trillanes.
now, i do admit that i believe in magdalo and voted for the guy, and really i did wish all the best for him when he got elected, but what the hell was that stunt?! how am i supposed to believe in this guy as an alternative to our corrupt government when his concept of "serving the Filipino" is walking out of due process, getting a bunch of angry soldiers with guns together, and raiding another hotel full of innocent bystanders? it's barbaric, not to mention poorly planned. in other words,
pampagulo lang
.
i don't know why instead of going on and on about how corrupt GMA is
they don't just hold an interview and present the facts. i mean, everyone's dying to have them on air anyway.
and then you have miss crimes against humanity. if the UN has findings that the AFP is behind the killings of the leftists, it's only a matter of time now before they get to her. Arroyo is getting sloppy, and scared. she's grasping at straws, and her mistakes are getting bigger and more numerous every time.
i know that Filipinos easily forget
, but the phrases "media blackout", "salvaging", "arrest without miranda rights" and "curfew" are very strong ones, and like the worst allergens they open very old and deep wounds.
but enough of the negative, and on to the positive--
pilya
is my idol. almost getting teargassed, creeping out of her safe urdaneta home to take pics of the events that transpired, GETTING INTERVIEWED ON CNN! whodathunk that our baby TAMTAM would be capable of such things?
read about it here
.
Mich
recently blogged about dealing with her apprentices growing up. to me Tammy will always be that little angsty ICA girl who complains about everything. ah, that heavy thump in the heart-- that is pride, my friends.
+/-
speaking of little girls growing up, you have Maui, my ex-girlfriend, who i will always remember as the one who forced me to have our picture taken with Ed Roland of COLLECTIVE fucking SOUL. and last week, in one fell swoop miss
Maui Reyes
was able to achieve two things many of us have been dreaming of -- getting engaged and getting namedropped in
Neil Gaiman's blog
. how? best if the lovely couple explain themselves
here
and
here
. congratulations, you two!
as for me, the only kilig-worthy moment i got with Neil was him telling me "why yes i did see your film, and i quite liked it, actually. in fact, I forgot to say this in the interview but it was one of the primary influences in me holding a short film competition here next year(!)" malamang stir, but when my imaginary keka deluxe edition dvd never comes out at least i'll have blurbs from Jessica Hagedorn, Quentin Tarantino and Neil Gaiman at the back, hahaha.
+/-
rock awards will continue, and i am a fucking mess.
it's the first time in its 13 year history that i will be directing the rock awards, and along with the facts that there're 42 bazillion other events at the same time, a celebrity drought, and slight chance of really heavy rains, PGMFA might extend curfew. fun fun fun. good thing i have the best office in the world, furball, to help me.
this is what a normal day at furball is like--
1. RA gets ready to shoot Asia Agcaoili's new sex video, Rock Hard
2. while not shooting, Ramon and Jun discuss Allen Dizon's uncanny abilities to attract everyone with his tantalizing look (this is not staged btw)
quote of the day:
Asia Agcaoili: i-post nyo yan sa facebook ha! don't forget to tag me!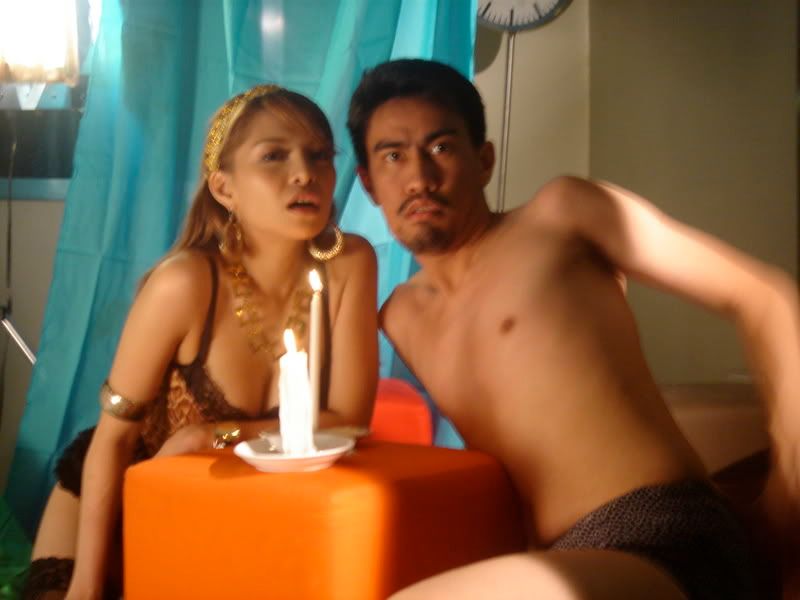 ganda.
+/-
we have a new band. we are called
Us-2 Evil-0
. we played first gig in secret in the recesses of BF Homes, but are now a bit more encouraged to battle against evil. gig 2 will be at Mag:Net, Bonifacio High Street on December 1 along with other new bands for Revolver. we hope to see you so you can share our message of love.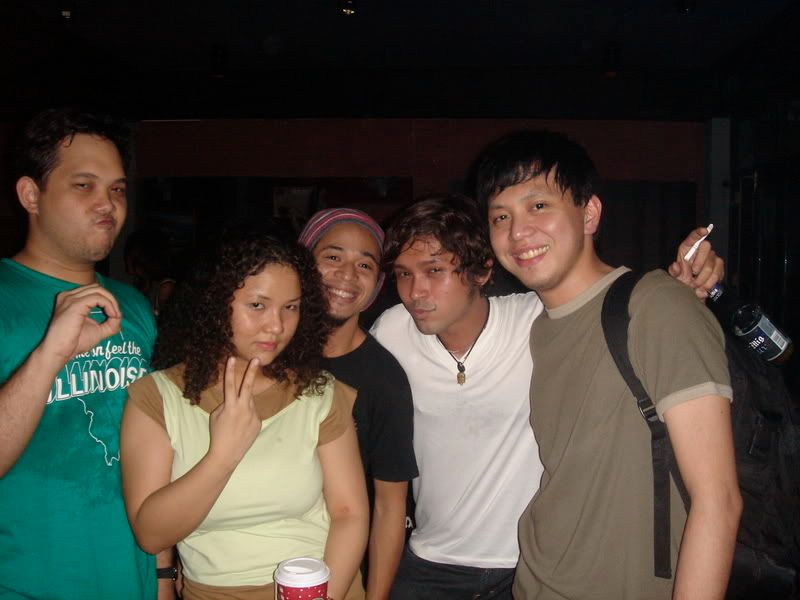 yes. that shirt again. yes. sweat stains rule.