after the hell that was Super Noypi, Mihk and I decided to make a pact for "Drama-Free 2007". of course, because fate is such a douchebag, 2007 ended up being one of the most dramaful years of my life. so for last year we both decided to trick fate and go for "Penniless 2008", and it worked! take that, you dumb bastard!

2008 was by far one of the best years of my life. i went to great places for the first time, i saw two concerts that will forever be scorched in my mind as not only great gigs but great life experiences, i was able to actually hang out with personal heroes (and one of the hottest women alive), and i did so many things creatively that i was really happy about. what really made the year, though, was you guys. so, to the lovely new friends who i feel like i've known my whole life and the kids i've been proud to call friends for a while now: thank you from the bottom of my heart and the marrow in my bones. there's no other way to put it :)

I usually make a list of my top 10 favorite things about the year. however, there are just too many for 2008, so forgive me if i cheat and expand to 15 :)

15. Prisoner of ABSCBaN! Last year was the first time I really dipped my feet into mainstream television, and it was quite... educating, to say the least. We did a pilot called "Petiks" which might not see the light of day and another show called "Parekoy", premiering Jan 8. The work was hard, but the moments between takes were a blast.

14. The Rock Awards and The QLE. People misunderstand the QLE as being a reaction against the Rock Awards, but I think they perfectly complement each other. The Rock Awards is more about the scene -- it's all these lovely people who make the same kind of music getting together and celebrating , while QLE is really more about celebrating everyone's personal preferences and sharing music you may have missed out on. I never got to thank everyone for the fun, small, intimate party that was the QLE, and it's gotta be said that this year's Rock Awards was one of my favorites.

13. Hello Commercials! this year was my favorite in terms of advertising output! did a lot of spots i was really happy about like PNB, the Belo ads and a hilariously insane insecticide ad. I also got to work with Pilita Corrales for Anlene. that chick is so fine.

12. Us-2 Evil-0: the band that i have to thank for a lot of the Rakista ideas. you have Boga the pickup guru, Mich the mental case (only when it comes to being replaced, Michelle!), Nix the reluctant heartthrob and of course, Wincy, my muse who unbeknownst to him is providing me with enough material for a novel.

11. Rakenrol will have been gestating for 4 years by February, and when it gets released I fear it may be a bit dated. But it's our baby anyway, and we'll always be very proud of it.

10. Asian Hotshots Berlin! the crazy parties. the food. the lovely people. the art. the graffiti. the really hot festival organizers. the kickass tour guides. the sunlight through the hostel window on cold mornings. the food. HAVING THE DIRECTOR OF NEKROMANTIK BUY ME BEER. it does not get any better than that. Ich bin ein Berliner!

9. Death Cab for Ciudad going to watch my favorite foreign band with my favorite local band : priceless. i wasn't a big fan of the last album so i thought i'd just be steady the whole time, then they started playing songs from The Photo Album and We Have The Facts And We're Voting Yes and I started screaming like a girl, hahaha. having mikey being screamed at in Chinese in the middle of a hawker center was lots of fun too.

here: my New Year's gift to you. Death Cab doing "Title and Registration"

8. Goodbye Music Videos! so yeah, after an eye-opening music video project in the middle of the year i've decided to keep my dignity and semi-retire from making music videos. having said that, though, (and because you're all friends so i can say this without being too self-conscious) most of my favorite videos i've ever made were done this year, including Sandwich's "Procrastinator", Pupil's "Disconnection Notice", Urbandub's "Evidence", Sponge Cola's "Pasubali" and especially Taken by Cars' "Shapeshifter". Not a bad way to say goodbye :)

7. Rockeoke, as always, was the ultimate social networking tool. It's better than Facebook, I swear! Lots of lovely performances from you this year guys, and everything from Rockeoke Idol to MOMOL Night is a bit of a blur, but a good blur. Even better than the band Blur.

6. The Eraserheads Reunion just made me very happy to be Filipino. Eraserheads is unquestionably the greatest local band ever, and seeing tens of thousands sing along to their music just proved that. I consider myself immeasurably fortunate to have these people as my friends, but even these days I sometimes freeze up and get starstruck in the middle of conversations with Buddy, Ely or Raimund.

5. Dita Na Me, Wr Na U? From that awkward first dinner in the Japanese resto to the final moments hanging at the house, Dita Von Teese was a hurricane that went by quickly but left us all dazed in the aftermath. Her show was amazing, but hanging with her one realizes that she's also one of those people who are so nice that you start not getting sexually aroused by them. Yeah, she's THAT NICE. Love goes to her manager Melissa (since i am president of Melissa Fan Club Philippine chapter) and her main man Albert, who all my friends say is the most insane party animal they've encountered in their life.

4. Rockband. How can a videogame be better than all the things mentioned above? If you play "That's What You Get", "Monkey Gone to Heaven", "You're No Rock n' Roll Fun", "Kool Thing", "Maps" and "Brass in Pocket" on the Activision game, you just might understand. If you play it with the friends I have, drinking and cheering and tsismising between songs, you WILL understand.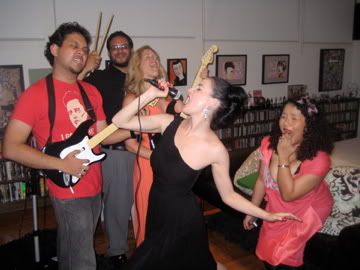 ya see that? two of my favorite things from 2008 come together.

3. I Heart NewYorckelodeon. It should be cool enough driving and bonding with my long lost cousins along the Los Angeles Highways. But then I get to go to the Nickelodeon Kids Choice awards. And then in the middle of the burger, pizza and Sundae buffet I run into Emile Hirsch, Jack Black, Ice T, Jodie Foster, Abigail Breslin and Cameron Diaz. Going to New York to visit my best friend would be enough to put this on the list as well. But then I go to a Wong Kar Wai and Ang Lee talk. And the next day I run into Tiffany Limos and Michel Gondry, and he loans 20 dollars off of me. Then I get to go to his house and stalk his DVD collection. In the middle of all this I get to watch Anathallo, Minus the Bear, Wolf Eyes, Kimya Dawson and Spoon. Dayum.

2. +/- Versus Manila Versus was one of those bands that changed the way I looked at music, and their single "Double Suicide" is one of my favorite songs ever. +/-, on the other hand, is a current fave, and the last two albums have ranked in my yearly top 5. Knowing that, if you ever told me that one day I would be treating them to Sizzling Bulalo and Pares somewhere in Anonas I wouldn't have believed you. They were such wonderful people, with killer senses of humor to boot. If that weren't enough their sets were so tight and heartfelt that they immediately became one of my most memorable concert experiences.

This is +/- ending their set with my favorite song of theirs, Queen of Detroit. They asked us to start dancing onstage, which resulted in either hilarity or a showstopping, poignant moment in rock n' roll history.

1. Rakista was originally meant to be an indirect spinoff of our movie Rakenrol, instead it became an animal all its own. I was always aware that it was a very special thing and a fulfillment of a lifelong dream to a) create my own TV show with one of my best friends (diego), b)do whatever the hell i want with almost no intrusion whatsoever, c)get everyone from my beloved students (like king, zig and mihk) to my personal idols (RA and yvette) to some of my longtime best friends (like erwin, ramon and mikey) to write and direct, d) get two of my favorite songwriters of all time (mikey and diego mapa) to write the music, e)discover my own ramon bautista in wincy, f)work with such a great production team, g)make stories on national TV about very personal things like English teachers i fell in love with and the Eraserheads reunion and most especially h)manage to put in a murder mystery, ninjas and zombies (and cast good friends like JC, Wanggo and Audrey as them as well) into the plot as we went along. I remember telling Sharon and Pong at one point that I was really fulfilled with Rakista, and that I was just relishing every moment because I knew it would be too good to last.

Just like Penniless 2008. Happy New Year, y'all.